regular price
$239.99
balance price
$119.99
Unit price
by
50% OFF
Sold off
✓ Fast and Tracked Shipping

We offer Free Worldwide Shipping.

All Orders are shipped with a Tracking Number.

Shipping time will be 3-12 business days.

For more Shipping Informations click here.
✓ 30 Day Money-Back Guarantee

We have a 30-day guarantee policy that offers free replacement options for products that are damaged, defective, or not what you ordered.
For more information click here.
✓ 24 Months Warranty

All our products have a 24-month warranty against any manufacturing defect.
✓ Shop Sustainability

With every purchase you'll be helping to restore Nature to Solve Climate Change by helping forests thrive through reforestation. Click here to learn more.


The World's First Levitating Moon Light
Do you remember back when you were a little child and the world seemed all shiny and new? When even the simplicity of a floating balloon seemed like an amazing magic? Do you remember the awe you felt? Well with our amazing Original Levitating Moon Lamp we hope to recapture that sense of childlike magic. Amaze your family and friends with a unique gift that's truly out of this world. 
Creatively using the power of magnets, the invisible forces propel the Moon Lamp upwards and hold it several centimeters above its base giving the already unique product an even more magical quality.

Just as we look to the sky and marvel at the Moon as it is calmly hangs from nothing but space you will look to your Floating Moon Lamp in awe as if it was held by an equally mystical force.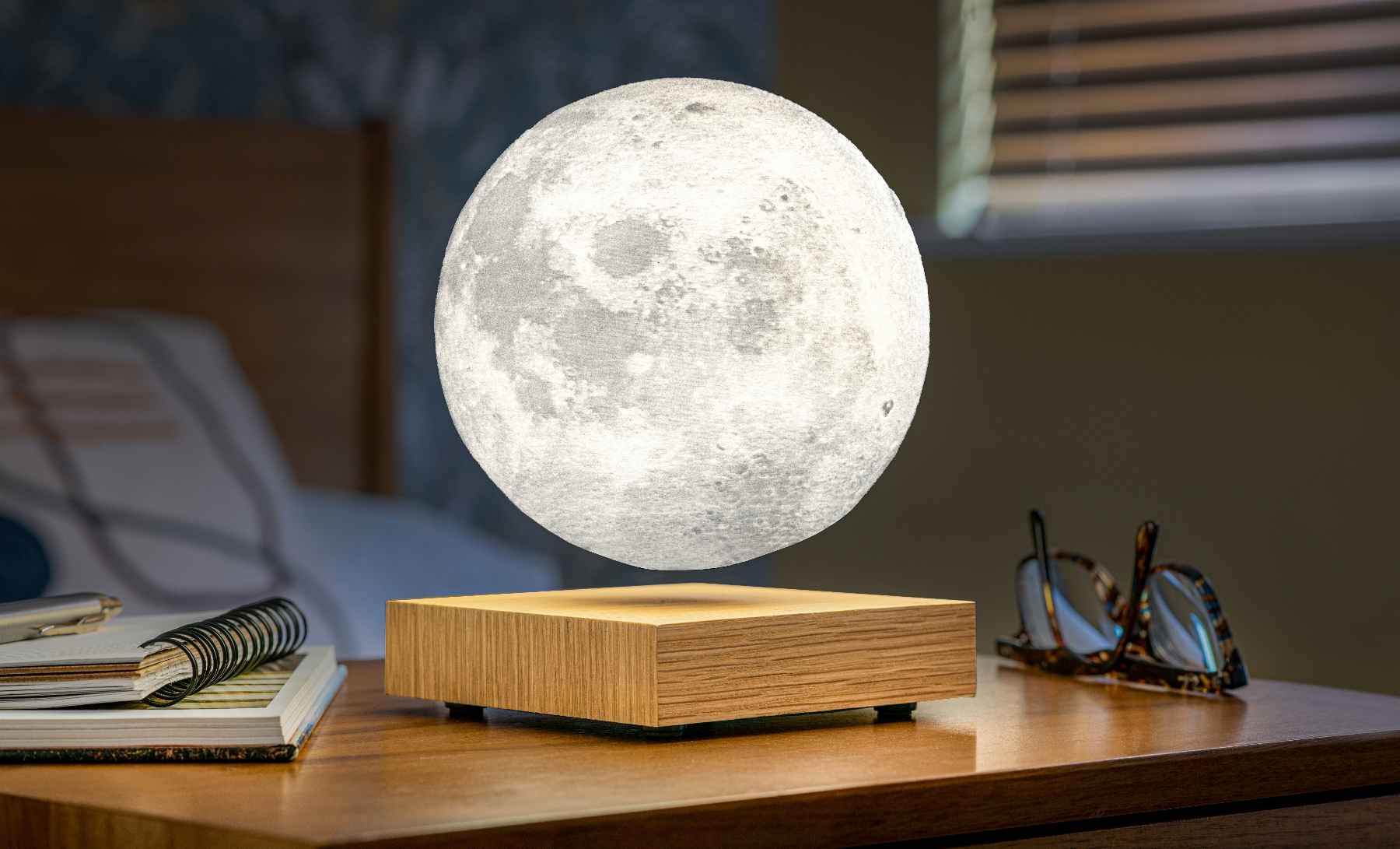 AN AMAZING GIFT!
Wonderfully crafted and meticulously detailed, the Levitating Moon Lamp hovers above its stylish modern base, repelled upwards by hidden sets of magnets. It was designed using high quality NASA satellite photographs of the moon itself and 3D printed in one single piece over the course of 26 hours. A lot of hard work and effort goes into the manufacturing of each and every lamp to ensure that you get the most amazing product possible!

The Original Levitating Moon Lamp is highly practical – putting out an amazing 360 degree beam of light – and a fascinating piece of modern art. Wherever you decide to keep it in your home, the lamp will always be an intriguing and exciting centerpiece and conversation starter.

It's perfectly safe for children too. As it is powered by low heat LEDs the Levitating Moon Lamp never gets hot. It is made out of a strong and durable material that has been thoroughly tried and tested which means it is never dangerous to handle. These were very important safety feature that we wanted to work into the designs because we know that kids will love our lamps just as much (if not more) than you do!
FEATURES
MAGNETIC LEVITATION- Thanks to the latest in levitation technology, the moon levitates in the air at all times and can constantly rotate or stay in one position - it's up to you.
26+ HOURS TO PERFECTION - Each Moon Lamp takes 26+ hours to make using state-of-the-art 3D printing technology. Our patented design is made according to NASA satellite images to accurately reproduce the moons actual surface and craters.
WIRELESS CHARGING - The Levitating Moon Lamp uses wireless electricity technology so it can be lit even while levitating! The touch control base allows you to turn ON/OFF and switches the color modes of the LED inside the Moon Lamp.
3 COLORS IN EACH LAMP - 

Cool White, orange, natural white
So there are all the technical bits and bobs...but does any of that really matter? Because we want the Floating Moon Lamp to be more than just a lamp – we want it to be an experience. A kind of sensory excitement that will make you feel like you are a child again, because there's nothing more magical than that! That was our goal when we decided to make this product, and I think we've managed it, wouldn't you agree?
SPECIFICATIONS
2 Base Color Options: Choose between dark or light wood base
4 Moon Diameter Options: Choose between 13cm (5in), 14cm (5.5in), 15cm (6in), or 18cm (7in)
Material: 100% eco-friendly PLA from USA
Brightness: 3w
Moon Light Color: 3 colors in each lamp (Cool White, orange, natural white)
Plug Type: Choose between 

US/UK/AU/EU

Voltage: 100-240V
CONTENT
1 x Magnetic Levitating Moon Lamp
1 x Base
1 x Power Adapter (US/UK/AU/EU)
1 x User Guide 
A Beautiful & Unique Gift
Whether it's for Christmas, a housewarming, a birthday, an anniversary or just because, the Levitating Moon Lamp™ is the perfect gift for any occasion.
Buy a Lamp. Plant a Tree.
For every DvineTime™ order, we pledge to plant a tree on your behalf. Join us in contributing to global reforestation one tree at a time.
30-Day Money-Back Guarantee
Since we are so confident that you will absolutely adore your Levitating Moon Lamp™, we are offering a 30-day money-back guarantee. If you aren't satisfied for any reason, simply contact us and ask for a full refund.
View full details
Frequently Bought Together